Alumni Spotlights
We are so proud of all our scholars who have been a part of the Guardian Scholars Program. Read what our Alumni have to say about the program and where they are now.
Michael Grey | B.A in Biological sciences with a minor in Psychology | Spring 2021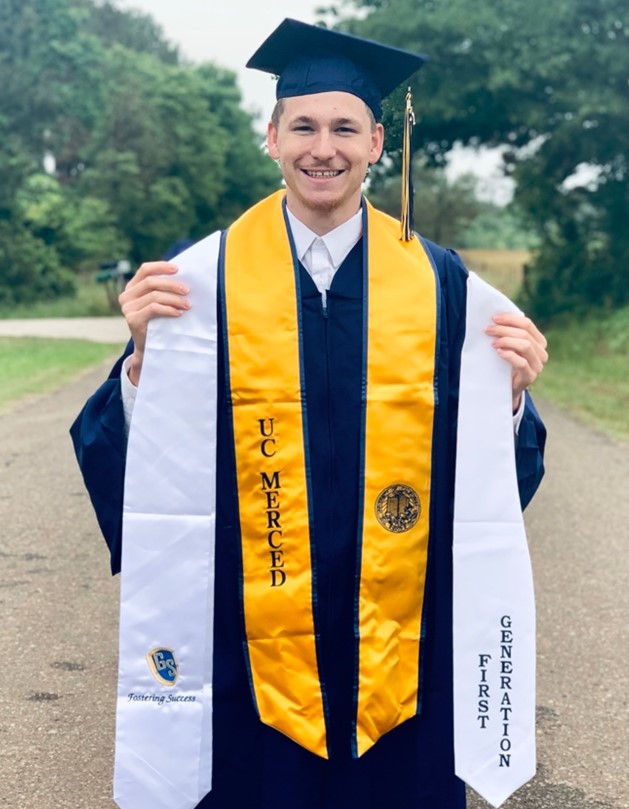 Hi! My name is Michael Grey, and I am a 2021 graduate from UC Merced. While attending UC Merced, I worked for the Guardian Scholars program and another nonprofit called Rise, in their basic needs sector. Currently, I have been working with Rise as their fulltime Operations Manager for the Student Navigator Network. I love that I get to work with institutions across the country to ensure that students' basic needs are being met. While here at Rise, I also was given the opportunity to manage a Foster Youth Advocacy Fellowship, where I led a team of 10 fellows, all youth formerly in foster care, focusing on capturing the stories of college students with experience in the foster care system. I love that I get to stay connected to higher education and still work with and mentor college students. This past year, my focus has been on figuring out which graduate school programs I would like to pursue. I decided to apply to two Social Work Master programs, with concentrations in administration and community building, as well as three Higher Education Administration and Leadership Master programs. The end goal has remained the same since graduating from UC Merced: support other first-generation, low-income, and underserved college students. I plan to do that with and after obtaining my Master's degree. The Guardian Scholars program was instrumental in helping me graduate from UC Merced, as well as with helping me find my passion. The GSP and Edith made my time at UC Merced fun and exciting. I loved all of the events. I loved connecting with other college students from similar backgrounds, of which some became close friends of mine. Edith was vital in helping me with any issues I faced in college, whether that be with roommates or with housing or with financial aid. I am super grateful to have worked for and been a part of such a wonderful program that supports students like me. Every campus should have a Guardian Scholars program! Thank you, Guardian Scholars, and thank you Edith!
---
Doris Reyes| B.A in Public Health with a minor in Psychology | Spring 2020 
 I am currently working as an Outreach Specialist at Dignity Health in Bakersfield, CA- my hometown. I have been working here since November of 2020. I am the youngest at my job therefore I consider myself lucky to work here since they gave me the opportunity to work for the Mercy and Memorial Dignity Health Hospitals of Bakersfield. In this role, I go out to the community and provide free health education classes to prevent and manage chronic disease.The Guardian Scholars Program helped me in multiple ways. For example, Coordinator, Edith Ramirez, has always been my mentor, and has helped me find a job while I was at UCM. Actually, because of Edith, I became aware of one of the other jobs I had in Merced. The job position was Calfresh Outreach Intern and she encouraged me to apply. That job gave me experience in what I am doing now at my current job providing resources to our community. This program also helped me financially to pay for food and rent while I was in college. I always felt supported by the Guardian Scholars and I continue to feel supported. Thank you- staff, peers and program, for helping me become successful even if the odds were against me.
---
Tomanik'e C. Banks | B.A in Public Health with a minor in Psychology | Spring 2018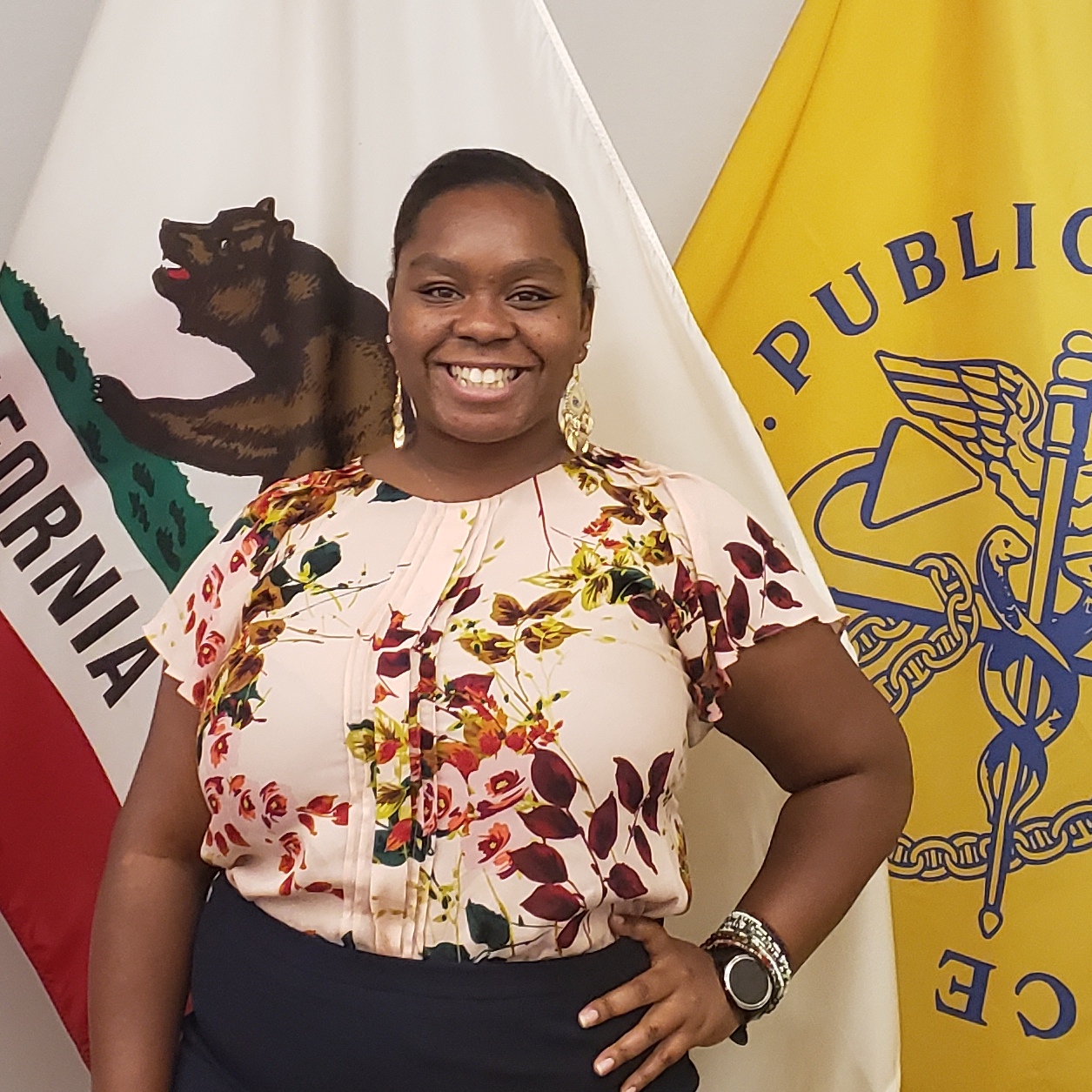 Since graduating from UC Merced in 2018 I've served as a Peace Corps Volunteer in Sierra Leone, West Africa in the health sector. I was abroad for nearly two years until evacuated due to Covid-19. Since my evacuation I've made my way back to the Central Valley. I am currently a Consumer Safety Officer with the U.S. Food and Drug Administration (FDA). I work from home but I also do a lot of field work, which helps to keep things exciting. I am nearing my one year anniversary with the agency and I am thrilled! I have an amazing supervisor, great colleagues and best of all I get to protect and serve the public by protecting public health! During my time at UC Merced the Guardian Scholars Program helped me in a myriad of ways. I enjoyed the meetings and events held by GSP and the financial support was greatly appreciated, but the sense of community was the most beneficial component. As a first generation student and a foster care alum the odds where stacked against me. It was reassuring to have conversations with my fellow GSP peers who were facing some of the same challenges and came from similar backgrounds. Moreover, Kevin Bristow and Edith Ramirez helped to keep me on track and navigate the world of academia.
---
Faustina Barnard
Faustina Barnard | B.A in Cognitive Science with a minor in Psychology | Spring 2018 
After graduating from UCM I began working for a small family business to gain some professional work experience. I didn't have a plan after graduating except finding work. Later in 2019 I began working for a county elections office to develop and lead their election worker training for their new voting centers in the 2020 elections. As of 2022 I have continued in my role as Training Staff Assistant in the county elections office, and I am in progress to complete an Instructional Design certificate program to further my career as an instructional designer. Being a Guardian Scholar at UC Merced helped reduce financial and housing stresses which would have impacted by success as a student. I didn't have to worry about where I would live each semester and how to cover tuition costs, and this allowed me to direct more energy into my schoolwork and internship work. The previous GSP coordinator, Kevin Bristow, was always a wonderful source of advice and support for whatever Guardian Scholar students needed. I'll never forget how Kevin helped to provide me with emergency housing on campus during the summer when I told him I was couch-surfacing and couldn't return home. This is the kind of support that the Guardian Scholars Program helped to provide me during my journey so that my college experience would not spiral downward and negatively impact my successes at UC Merced.